When Erwin Kloesch, a 20-year veteran in the audiovisual integration industry, decided to strike out on his own in 2009, he wanted to give his company a name that encapsulated what the organization could do—and what they stood for. He settled on Kloesch Media Complete (KMC) because it best described the company's purpose and its unique selling point.
"Located in the very north of Austria's capital city, Vienna, KMC is an all-in-one provider of AV integration services, specializing in meeting rooms, conference rooms, auditoriums, and digital signage," said Michael Kloesch. Michael joined his father's company as an AV specialist, and today serves as Chief Technology Officer (CTO). "As a family business, we are very proud of our long-standing employees, especially our installation team of three highly qualified AV technicians. They make tailor-made concepts and designs a reality for each and every client, and their good work is the best publicity we could ask for."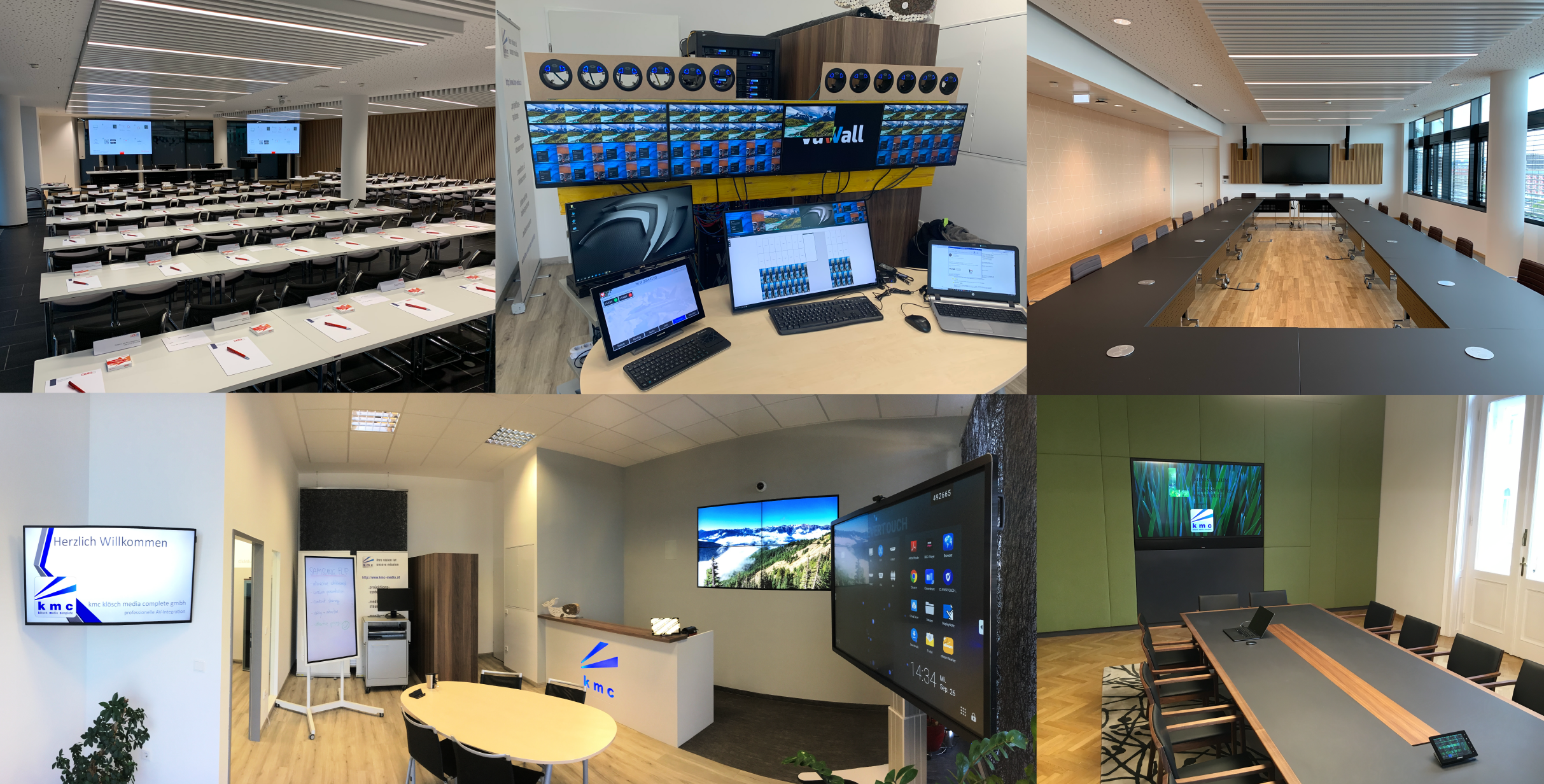 Personal Touchpoints are Key to KMC's Success
KMC is a small firm with one office and seven employees, but since becoming a PSNI member in 2018, the company has enjoyed a global reach. KMC recently completed its first joint project with Barcelona-based integrator Ditec. The company has several other projects in the works with U.S.-based integrators, Michael said.
"Since KMC became part of the great PSNI family, we have had the honor of working together with some of the best in our industry," he said. "It is always a great pleasure to meet up with like-minded people from all around the world who share the same passion for AV. And when those meetings take place in extraordinary locations and are perfectly organized by the excellent staff of PSNI, that is a very welcome bonus for all parties involved."
KMC is uniquely positioned to provide personalized service, even as they expand their work on a global scale. This benefits both their clients and their integrator partners, Michael said.
"We feel that we are very able to provide our PSNI affiliates with the high-quality services they expect and deserve," he said. "One benefit of being so small is that all our partners have one point of contact for all PSNI related matters—me. So, you are always communicating with someone at the heart of KMC, and getting honest, practical feedback on your requests."
Training, Preparation More Important than Ever for PSNI Members
Honesty is key to keeping customers and partners happy, Michael said, especially as the lines between AV and IT continue to blur. KMC has come across many customers who were disappointed in AV installation projects that had been handled by IT rather than AV specialists.
"Over the last few years, we have seen ever greater and more complex AV projects handled by IT specialists rather than AV integrators, due to the hugely advertised merging of AV and IT," Michael said. "Those projects were mostly disappointing for the customers because it turned out AV is more than just strictly IT. We now see those types of projects coming back to the AV integrators."
And that means it is more important than ever for AV integrators to be trained, qualified, and prepared to meet the needs of those returning customers.
"Looking into the future of our industry is very difficult, not only because of the rapid development of the technologies themselves, but also because of the constantly changing requirements of our customers," Michael said. "Currently we do see significant growth in UC systems, collaborative solutions, and interactive displays. It is clear that acquiring solid IT knowledge is no longer optional, but very essential for dealing with these projects. And I think we as AV integrators need to up our game at providing intuitive, reliable, and user-centric solutions."
For their part, KMC is working hard to stay ahead of the curve, and at the forefront of the industry.
"Exceeding customer expectations is KMC's paramount objective and the foundation for all our long-term relationships," Michael said. "This is best reflected in our corporate motto: Your vision is our mission."
You can learn more about KMC here.
Looking for a PSNI integrator?
Members of PSNI Global Alliance represent a true partnership, setting the bar in professionalism and excellence. They support one another by partnering across the network, sharing and collaborating with each other in order to provide the best outcomes for their end-users. Find your nearest PSNI integrator today.
Thank you, KMC, for being our Member of the Week!